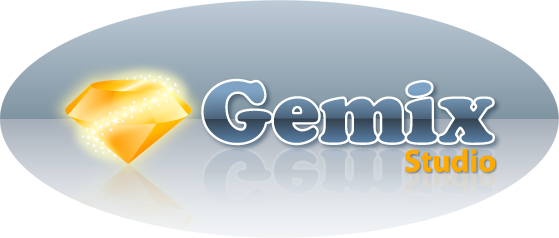 * What is Gemix Studio ?
Gemix Studio is a profesional videogames development tool that includes an IDE with
so many tools as possible and a series of
DIV
derived languages with different improvements.
* What does Gemix Studio intend to be?
Gemix Studio intends to be officially a new generation and evolution of
DIV Games Studio
and tries to offer the most
possible services in order to develop any 2D or 3D games, either software or hardware.
* What kind of license will Gemix Studio have?
The final version will be a FREE product for commercial and free use (except for modules using 3party libraries for which commercial licenses are required), so, it can
satisfy every kind of user (from the beginner user to specialized companies).
Nowadays we have just a language developed among all those which will form Gemix Studio:
Gemix
NOTE: the BETA version usage is FREE (see LICENSE.TXT for license info)
Development Team:
CicTec -> (2D, 3D, modules and IDE programmer)
TYCO -> (TOOL programmer, tester)
GINO -> (2D grapher, internal tester and examples programmer)
Official Betatesters:
Daniel Navarro Medrano (original creator of DIV Games Studio 1 and 2)
!Deemo
Altair|
AmakaSt
BenKo
caanbago
Dluk
GaNDaLDF
ManOwaR
mongia
Nower
Nightwolf
oasistudios
OscarBraindeaD
polgames
RST
Scribbley
TYCO
vortigano
z4g0
Gemix Studio (C) 2005-2020 Skygem Software. All rights reserved
------------------
LEGAL ADVERTISEMENT:
SKYGEM SOFTWARE DOES NOT NO ASSUME ANY KIND OF RESPONSABILITY ABOUT THE POSSIBLE DIRECT OR
INDIRECT DAMAGE THIS PROGRAM AND THE PROGRAMS CREATED WITH IT MAY CAUSE OVER THE COMPUTERS THEY ARE RUN.
------------------